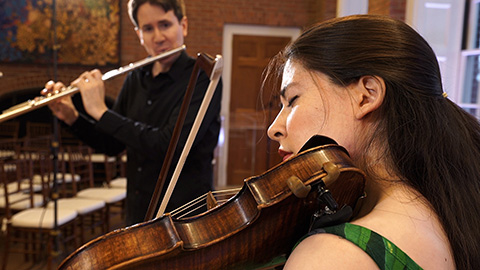 We're happy to introduce our new concert program, Celtic with a Twist.  We've put together a series of videos, with background stories, highlighting works from the show.  Thank you to the S&R Foundation for the gift of filming at the stunning Evermay Estate in Washington, DC.

Now to the videos – we hope you enjoy!

Maria: The first jig – The Luck Penny – is a tune I learned for the role of dancing fiddler in Riverdance.  In the haste of learning it last-minute, I never found out its name… till this week, when I posted this video and asked my friends to help name the tune!  This set of jigs features improv on 3 of my favorite Irish & American tunes.

Maria: I love Danny Boy, and I love hearing Shawn play it on the flute.  Improvising accompaniments to support the beauty of both is an absolute joy that never grows old no matter how many times I play it!

Maria: When I was 19, I went to Northern Ireland to visit my grandma.  I also started learning how to fiddle by playing at pubs across Belfast with my dear friend, Geordie McAdam.  I instantly noticed how everyone – from novice to expert – played tunes with an ease and spontaneity rare to classical music (especially Bach's difficult solo sonatas and partitas).  So when I returned to Juilliard that fall, I thought I'd pair various movements of Bach with Irish tunes of the same rhythm.  Bach in Ireland is the result of this experimentation; bits of Bach are worked into the jig, slip jig and reel, and the Bach solos are infused with Celtic pulse.  My hope is that this unusual pairing will showcase the beauty of both styles in a fun and new light!

Shawn: Performing the Flower Duet together is always incredibly fulfilling and, as we often perform without a chance to warm up, it's a great way to make sure we're on the same page.  Maria & I have performed together since 2000 and it's rewarding to build up a 'way' of playing.  We have different personalities and ideas on music but, in this piece, we try to fully synchronize tone, pitch, phrasing, feeling, sometimes even movement.  When done correctly, it should just feel natural and effortless!

Shawn: Growing up, I listened to flute music as I'd go to sleep.  One of my favorite tracks was Brian Boru's March performed by James Galway.  In this clip, it's woven into the first reel, The Girl Who Broke My Heart.  Ironically, the girl I'm playing with has not (yet) broken my heart… and I don't feel like the Man of the House!