Violinists and musicians!
Here's a series that's guaranteed to change the way you perform.
The Fearless Performer: 7 Keys to Conquering Any Stage
A free livestream series on YouTube featuring Juilliard graduate & Riverdance fiddle alum Maria Kaneko Millar
Sign up now and receive a FREE workplan of the 7 Keys full of invaluable tips and exercises.
About this series:
For 7 consecutive days, Maria reveals the 7 essential elements that will make your performances extraordinary! Each talk features valuable tips on performance mastery, drawing on Maria's expertise in composition, improvisation, audience connection and movement for the stage! Stay tuned… the talks will be followed by world video premieres from Maria's recent Celtic/Classical show with the Victoria Symphony conducted by Sean O'Loughlin!
Watch it here:
Day 1: Vision / Amazing Grace
Day 2: Multi-Genre Technique / Tamlin + Mason's Apron
Day 3: Movement / Farewell to Erin
Day 4: Composition / Fall from Four Seasons Rising
Day 5: Improvisation / Maria Improvises with the Audience
Day 6: Presentation / The Blacksmith
Day 7: Singularity / Toss the Feathers + Clancy Lowered the Boom
About Maria: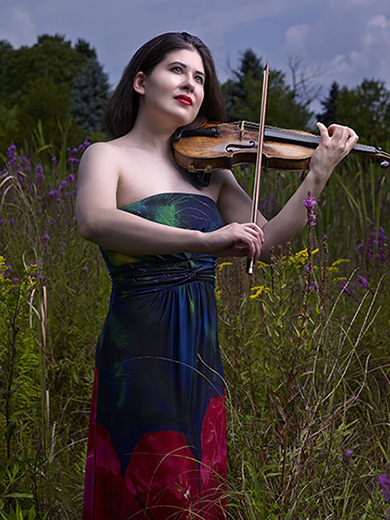 Violinist and composer Maria Kaneko Millar has performed as a soloist throughout Canada, Ireland, China, Japan, Mexico and the US; her work has been featured by The Canadian, British and American Broadcasting Corporations as well as Lincoln Center, Kennedy Center and The Gershwin Theatre on Broadway. Maria currently tours North America alongside flutist Shawn Wyckoff as Sonic Escape. Their performances – reaching 100,000+ audience members in 45 provinces & states so far – use singing, dancing, storytelling, audience interaction, and above all, hyper-instrumentals to create an experience that is "wonderfully imaginative… with an anything goes sense of fun." (The Washington Post)
170 performances as the Solo Dancing Fiddler in Riverdance On Broadway and the North American and Asian Tours of Riverdance: The Show featured Maria's improvised solos and simultaneous dance. She also performed in Radio City Music Hall's One World Jam and premiered her creation for dancing violinist on CBC's nationally-televised The Great Canadian Music Dream.
Maria's compositions have sold as sheet music in 40 countries. In 2019, her solo violin creation Sakura – licensed by the Associated Board of the Royal Schools of Music – had a first-run printing of 12,400 copies sold in 93 countries. Maria's great passion is improvisation: her arrangements and aural transcriptions of Asian, Celtic, Gypsy, Klezmer, Tango, Turkish, blues, jazz, pop, rock and classical music have laid the foundation for fearless ad-libbing in any setting. Maria holds accelerated BM/MM's in Violin Performance from The Juilliard School.